"Love One Another " written by Fatima Alala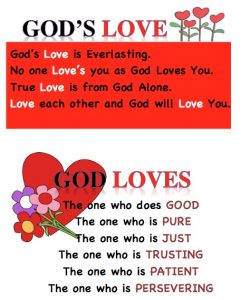 "Love for others what you love for yourself", this was the message that seven year old Hanan got from the Hadith that her Madrasah teacher read to her. At public school , she was being surrounded by all the talk and valentine trinkets that her friends were getting excited about. Hanan was a bit confused and went to her Mom Fatima and asked her about the love of Allah and the Valentine love that her friends were all excited about.
Fatima explained to Hanan that Allah's love is always present and never fails and this love on Valentine's Day is only for one Day and is not available for the
next 364 days of the year. Allah is always caring, loving, kind, merciful, compassionate and most of all Forgiving. Hanan was so impressed by the Allah's love that she wanted to tell everyone so Fatima came up with the idea that she and her daughter would get some friends and go down to Union Station in downtown Toronto on Valentine's Day and tell people about Allah's love for them…….
click here to continue reading about Fatima and Hanan's adventure.