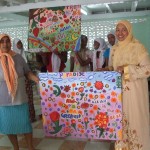 Fiysabiylillah Compassionate Aid Organization encourages women of all ages to contribute their talents and skills to help those in need in our global community.  Whether it be directly with us or in partnership we hope to raise a consciousness of the role Muslim women can play in helping those less fortunate in our community.
A few ways to get involved include:
Becoming a volunteer/member and helping with local projects.
Create a sustainanble project to help the needy in a third world country.
Volunteer some time to meet the less needy in your community to see how you can help, and how organizations like us can provide assistance.
Provide monetary donations to our projects.
Provide daw'a through literature and your own actions to non-muslims.
Let others know about the work Fiysabiylillah is doing.
Use your talent to help Fiysabiylillah (ie. if you are a writer, contribute an article to our newsletter).
We also encourage highschool students to assist our organization for community volunteer hours.  They are many small projects we could use the assistance with locally.
Fiysabiylillah Compassionate Aid Organization (FCAO) is here to help those in need for the pleasure of God.  We are open to ideas and projects anyone would like to propose as a means to achieve that goal.
If you would like to get involved please email us at [email protected].  We welcome new faces and ideas to our organization.
May Allah (SWT) make it easy on all of you to donate a bit of your time, talents, and money with our organization.