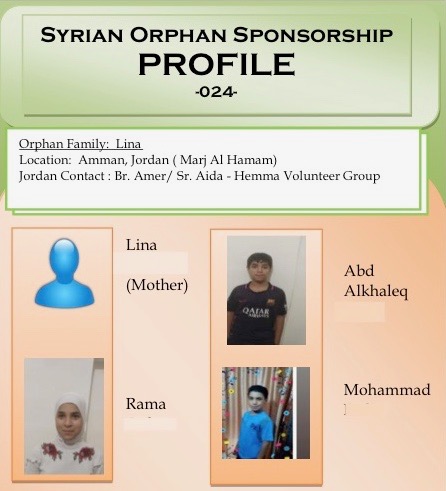 HER STORY – Lina's husband was imprisoned and later died in Syria. She then fled from Syria with her three children to Jordan and arrived at the Zatari Camp on April 3, 2014. Due to the unsafe and insecure situation that existed at the Zatari camp for young widows. Lina escaped with her children to Amman, Jordan where she rents an apartment for $240/month.
2018 and 2019 it was very difficult to find sponsors to fund the Syrian widows and orphans as the Rohingya crisis had emerged. Families are finding it very difficult as the international agencies that offer monetary help have also withdrawn or drastically reduced their financial assistance to these families. Fiysabiylillah was fortunate to have a dedicated volunteer network that communicated with each family to find out how they were managing and what were some of the new challenges that they were facing this year. Lina is not doing well and Mohammed her eldest child is sick and does not attend school anymore. Her two other children are attending school, Alhamdulillah. Lina finds it very challenging to manage on her own. The little assistance that families like Lina and her children receive from Fiysabiylillah allow them to pay for the necessities of life, and they truly appreciate the help that they receive.
Please help support orphans and widows like Lina's family today!

Posted in
Local Project
Comments Off

on Support a Syrian Orphan today